Advantages Of Aluminium Shop Fronts
Posted by:
Admin
Tags:
Posted date:
03-11-2022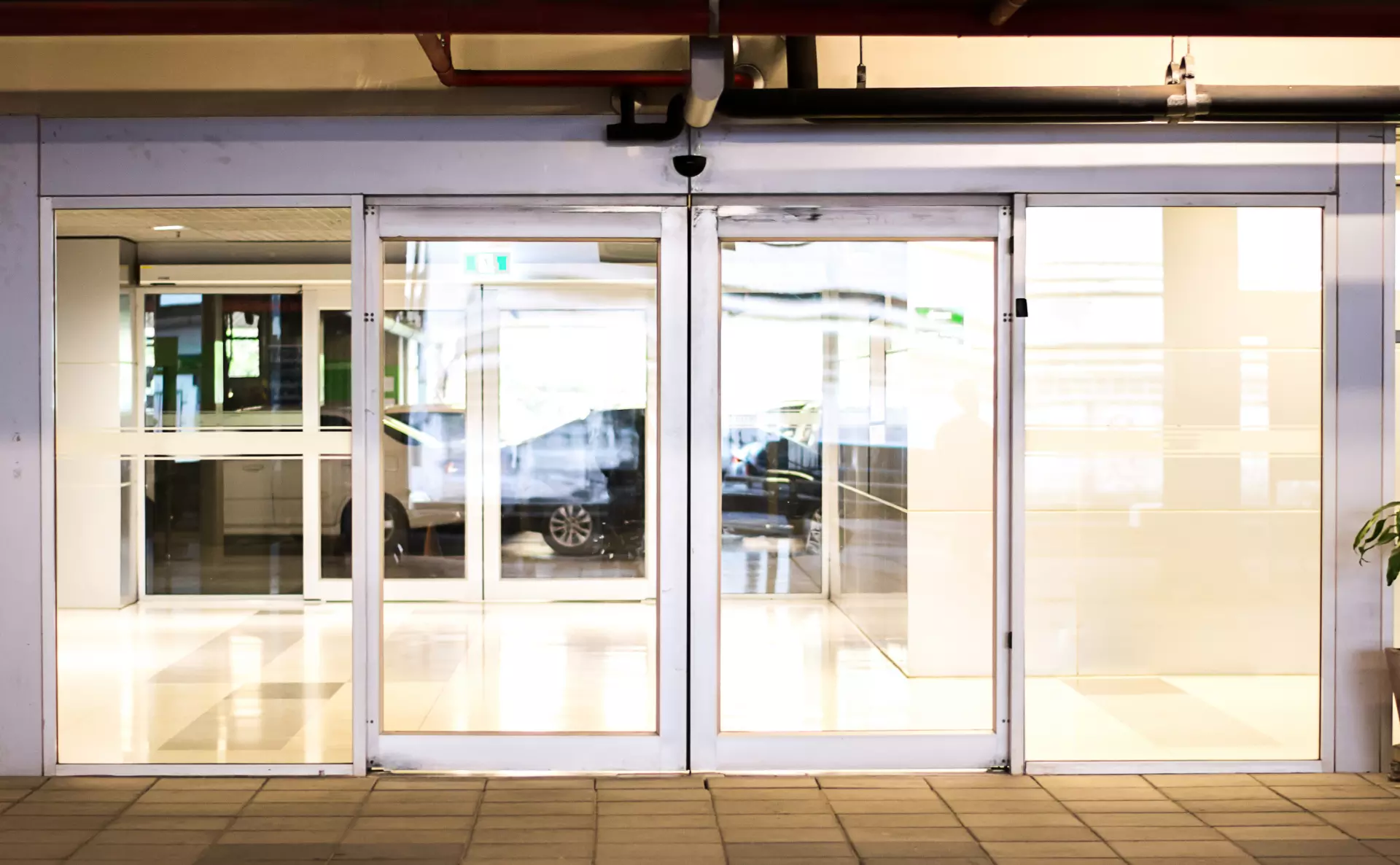 What are the advantages of aluminium shop fronts? If you are designing a new shop front, find out the benefits of installing an aluminium shop front for your business.
What Are The Benefits Of Aluminium Shopfronts?
Aluminium is a fantastic material you can utilise all about your space; however, security aluminium shop front doors provide numerous benefits. It's eco-friendly, versatile, visually pleasing and much safer than other options available.

Types of Shopfront
There are a whole host of materials you can choose from when selecting the most suitable shop front security doors, and many options have their own pros and cons to decide from and consider. These are a few examples that you may want to research:

Security Shutters
One of the shop industry's most popular front security solutions tends to be security shutters, as they offer the most visual deterrent for thieves, vandals and various other criminals.
Shutters are constructed primarily from strong metal, pulling down over the main doors or gates to prevent entrances and protect the shop from immediate damage.
Sliding doors and shutters of this kind are straightforward to operate and are available in manual aluminium and steel fittings and with electrical installations to create automatic doors.

Glass Installation
You'll find numerous shop fronts across the country that are made entirely with glass, offering shop windows plenty of light, space and class.
Glass, as a material, requires plenty of maintenance; it will need frequent cleaning and replacements should it crack, chip or become damaged, as it isn't the best look for your business.
Customers are more likely to avoid shops with damaged exteriors, and sometimes, if the damage is extreme, authorities may advise you to close down temporarily whilst it is repaired, which can mean you lose out on profit.
However, glass panels are one of the most aesthetically pleasing shop front solutions you can select with endless glazing options; if you have the costs and staff to complete consistent maintenance, it won't be a bad investment.

See-Through Grilles
See-through roller shutters are much like both a glass installation and security shutter all at once, combining accessibility with a glass window display effect for your shop window.
You're more likely to find this kind of shop front in shopping centres and big department stores, as they are made from polycarbonate reinforced glazing and grill shutters, which make them durable enough to protect the stock inside and aesthetically pleasing.

Wooden Shopfronts
If you're looking for a more vintage or classic design or atmosphere for your business premises, you may want to select timber or wooden; they are ideal for boutiques, restaurants and cafes.
You can also opt for wooden materials for any buildings or businesses located in towns or traditional villages to achieve a rustic look and distinctive handcrafted appearance.
We also highly recommend the timber look to those whose establishments and intricate little shops are closeby to traditional companies or historical landmarks.

Aluminium Shopfront
If you're looking for the best of both worlds, we highly recommend aluminium shopfronts, as they are extremely lightweight, durable, and weather-resistant. They are straightforward to have installed by experienced teams of professionals, and their lack of required maintenance makes them a highly cost-effective option.
Toughened glass and robust metal are used to construct these shop front doors, which help offer immense levels of security, plenty of space and great lighting. Aluminium windows and doors are a sensible balance that offers modern design specifications and impressive security levels alongside little to no repair or maintenance work for extended periods, allowing them long lifespans.
Many businesses have taken to aluminium as the go-to solution with its maximum security and modern installations. They are also loud, durable material, so thieves or vandals will struggle to escape their crimes should they even attempt.

Advantages of Aluminium Shop Front Installations
Aluminium shop fronts are a top-rated material solution for numerous companies and businesses across the UK, and their popularity is only growing. It offers an incredibly versatile material with a lightweight structure that is cost-effective in its construction and installation and adaptable in design.
You can combine practicality and style with aluminium shopfronts to create the perfect security solution. These are some of the most prevalent advantages of installing aluminium shop front doors for your business establishment:

Aluminium is an abundantly produced commodity; it's also fantastic for the environment as its material is 100% recyclable.
Once it has been successfully recycled, its strength and durability do not diminish, unlike other metals or materials, meaning you'll still be able to attain all the benefits its versatility and robust nature offer.
Shop owners can keep their carbon footprint as low as possible, therefore doing their bit for the eco-system.
You can easily customise aluminium material doors to fit the exterior of your shop due to its incredible versatility. It's much like PVC but far more robust, with a remaining tensile strength regardless of the shape it is morphed into.
It will fit perfectly into any area you need, leading to various spectacular designs that can be a massive advantage for your business' image. Throughout the fabrication process, it can be bent and curved into any shape, so if you're after a sleek, smooth and modern storefront door with no rivets or unsightly joints, aluminium can provide it.
Aluminium is an easy material to update with paint or special spray paint that incorporates powder coating if you ever wish to spruce up the appearance of your shop front.
The process of repainting the material with different colours can be accomplished on-site by skilled specialists, so you won't have to worry about dismantling and transporting it.
You'll be able to freely adapt the appearance of your shop front to suit the changes in your business, whether branding or colour scheme.
Whether you purchase a new shop front door for your home or business, you want to ensure you get good value for your money. Aluminium is a relatively cheap material and abundant in production, with a thermal performance that is impressive and second to none.
Pairing aluminium with high-quality glass will significantly help lower your energy heating bills and help conceal a consistent ambient temperature in the store or commercial property.
With front commercial entrances made with aluminium frames, heat gain and heat loss are successfully reduced by approximately 60%. Such frames are more cost-effective as they are so low maintenance, so once you've paid for the doors, you won't have to spend on pricey repairs.
For the lightweight and versatile metal material that aluminium is, it offers incredible durability for doors and gates. Utilising material aluminium for shop fronts is a wise move, as they are skillfully designed to withstand extreme weather conditions and whatever it may throw at them.
Aluminium is one of the few metals that doesn't rust when it rains and doesn't heat up when in contact with direct sunlight, unlike its counterparts. It's an excellent choice for a shop front door or security gate.
Aluminium offers fantastic levels of strength and durability, meaning that if you opt for a shop front made of aluminium, it will have an extensive lifespan. Typically, this kind of metal will last approximately 20 years and is relatively low maintenance. You can respray it with various colour options to create unique pictures and designs to adapt to your company's branding as your colour palette or logo changes over the years.
For example, if your shop's motif and logo are made up of red shades, you can spray the aluminium doors red to match, which will help with branding even when you're closed for the evening. Again, its low maintenance makes it a suitable option, especially for busy businesses that don't have a great deal of spare time to invest in upkeep.
It doesn't require too much attention, as it is incredibly corrosion-resistant and can cope with a wide range of conditions without the risk of swelling, splitting, warping or cracking.
---
Do you want to find out more about the advantages of aluminium shop fronts? If you are looking for aluminium shop front installations in Bedworth and Warwickshire contact our experts today.
Get in touch if you want to find out more about aluminium shop front fitting in Bedworth and Warwickshire.